" S Y C H O " S I D V I C I O U S
PROFILE
Real name: Sidney Ray Eudy
Height: 6'9"
Weight: 313 lbs.
Date of birth: July 4, 1960
Hometown: West Memphis, AR
Resides: Marion, AR
Pro debut: 1987
Trained by: Tojo Yamamoto
Finishing move: Powerbomb
Wrestled as: Lord Humongous, Sid Justice, "Sycho" Sid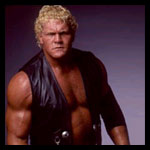 MY THOUGHTS:
THE most intense wrestler of all-time! Sid "rules the world", he has always said, and few have been able to prove him wrong! "Vicious" does not even begin to describe this towering, intense giant of a wrestler! Few can match his Power Bomb for sheer power, and even fewer can kick out of it! He may not be the most technical wrestler, but when it comes to power and intensity, look no further than "Sycho" Sid Vicious!
BIOGRAPHY
- Sid debuted as Lord Humongous in the CWF and CWA promotions.
- Sid captured the CWF title from Dan Davis on Dec. 25 1987.
- As Sid Vicious, Eudy defeated Brian Lee on December 10, 1988, for the CWA title in Memphis, TN.
- Sid entered WCW and formed a tag team with Dan Spivey called the Skyscrapers. Teddy Long managed the team.
- The Skyscrapers split the $50,000 prize at the Great American Bash '89, when Sid and Spivey won a double ring battle royal.
- At Starrcade '90, the Skyscrapers beat the Motor City Madman and the Big Cat in sixty-one seconds.
- Ric Flair, Barry Windham, Larry Zbyszko, and Sid beat Sting, the Steiners, and Brian Pillman in a double ring "War Games" match at "Wrestle War '91'."
- On August 12, 1991, Lord Humongous defeated Tom Prichard for the Texas heavyweight title.
- Harvey Wippleman managed Vicious during a brief stint in the WWF.
- Eudy returned to WCW, but was fired for the infamous stabbing incident in England with Arn Anderson. "The Enforcer" suffered 20 puncture wounds.
- On July 16, 1994, Sid defeated Jerry "The King" Lawler for the USWA title.
- At "In Your House III," Sid defeated Henry Godwinn.
- Davey Boy Smith, Sid, Ahmed Johnson, and Shawn Michaels beat the team of Owen Hart, Yokozuna, Dean Douglas (Shane Douglas), and Razor Ramon at the 1995 Survivor Series.
- Upon his return to the World Wrestling Federation, Sid earned a WWF title shot by defeating Big Van Vader.
- Sid defeated Michaels for the WWF title at the 1996 Survivor Series at Madison Square Garden in New York.
- Sid successfully defended the WWF title against Bret Hart at "In Your House XII."
- Sid pinned Hart on the February 17, 1997, edition of "Raw" to re-capture the WWF title.
- On October 4, 1998, "Sycho" Sid defeated John Diamond for the vacant NEW/NWA Northeast title in Terryville, CT.
- When "Judge" Jeff Jones found John Kronus "Guilty as Charged" at the pay-per-view by the same name, he brought out Sid Vicious. Sid easy destroyed Kronus with his powerbomb.
- In April 1999, Sid claimed an AWF Super Heavyweight title.
- After his match with Justin Credible at Hardcore Heaven '99, Sid powerbombed Jeff Jones to the delight of the fans in attendance.
- Sid left ECW and re-signed with WCW in June 1999. He arrived just in time to attack then WCW champion Kevin Nash at the "Great American Bash."
- Vicious scored a rare clean pin fall victory over Sting at the 1999 "Road Wild" PPV in Sturgis, SD.
- Sid defeated Chris Benoit for the United States title at the 1999 "Fall Brawl" in Winston-Salem, NC.
- Sid won the WCW title on January 24, 2000, in Los Angeles, CA.
- Sid successfully defended the WCW title against Jeff Jarrett at SuperBrawl 2000.
- Vicious, with outside interference from Hulk Hogan, again successfully defended the WCW title against United States champion Jarrett at Uncensored 2000 in Miami, FL.
- Sid turned on Hogan during a tag team match on the March 20, 2000 episode of "Nitro" against Jarrett and Scott Steiner of the nWo.
- Sid was stripped of the WCW title by Eric Bischoff on the April 10, 2000 edition of "Nitro."
- On the May 15, 2000 episode of "Nitro," Sid returned from an injury to attack Diamond Dallas Page.
- After an extended absence from television, Sid returned to "Nitro" on November 27, 2000.
- At the 2001 Sin PPV, Sid suffered a double compound fracture in his left leg during a WCW title match against Steiner.
- At the April 14, 2002 WWA PPV Eruption in Melbourne, Australia, Sid was the special enforcer for the Steiner-Nathan Jones world title match.