"TRIPLE H" HUNTER HEARST HELMSLEY
PROFILE
Real name: Paul Michael LeVesque
Height: 6'4"
Weight: 246 lbs.
Date of birth: July 28, 1969
Hometown: Nashua, NH
Pro debut: March 1992
Trained by: Killer Kowalski
Finishing move: The Pedigree
Wrestled as: Terra Ryzing, Jean-Paul LeVeque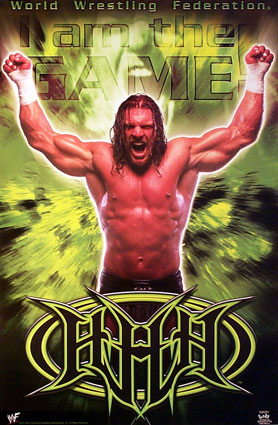 MY THOUGHTS:
"Time to play da Game!" Hunter, starting off as a mid-carder at best, shines now as a multi-time heavyweight champ for the WWE. An incredible comeback from a very painful injury, Triple H has proven to be one of the toughest wrestlers ever in the sport! D-X put him on the map, and he has never looked back since! Believable as a face or a heel, Hunter may become a true legend before everything is said and done!
BIOGRAPHY
- LeVesque made his wrestling debut in March 1992 for the International Wrestling Federation (of Massachusetts). He defeated Tony Roy.
- LeVesque used the ring name Terra Ryzing, and the inverted Indian Deathlock as his finisher.
- In July 1992, Ryzing captured the IWF title from Mad Dog Richard.
- Ryzing's independent victories earned him a WCW tryout on February 4, 1994. Ryzing defeated little known Keith Cole at the Center Stage Theater in Atlanta, GA.
- LeVesque entered WCW as Jean Paul LeVeque. He was primarily used as jobber.
- LeVeque received a shot at Larry Zbyszko's WCW World Television Title on June 2, 1994, in Gainsville, GA. The match resulted in a double count-out.
- In April 1995, LeVesque left WCW and signed with the WWF. He changed his gimmick again to a Greenwich, Connecticut Blueblood snob called Hunter Hearst Helmsley.
- Helmsley started using a new finisher, a double-underhook piledriver called the Pedigree.
- In his WWF PPV debut, Helmsley defeated Bob Holly at Summerslam '95 in Pittsburgh, PA.
- Helmsley was destroyed in less than two minutes by the Ultimate Warrior at Wrestlemania XII. He blamed his ring valet Sable for the defeat.
- On May 19, 1996, Hunter defeated Razor Ramon in Scott Hall's final WWF match. Breaking kayfabe, the clique, Diesel (Nash), Helmsley, Shawn Michaels, and Razor (Hall) took bows in front of the Madison Square Garden crowd after the Michaels/Diesel steel cage match.
- Helmsley was supposed to win the 1996 King of the Ring, but was punished for the MSG act by going on "job patrol."
- Helmsley sought the guidance of "Mr. Perfect" Curt Hennig.
- Helmsley captured the WWF Intercontinental title on the October 21, 1996 edition of "Raw" by defeating Marc Mero, when Hennig turned on Mero, clobbering him with a chair.
- At the 1997 Royal Rumble, Helmsley defeated Goldust.
- Helmsley introduced a new bodyguard at Wrestlemania XIII. The muscular bodyguard was called Chyna. She turned out to be a fellow student of Killer Kowalski's wrestling school.
- Helmsley became the 1997 King of the Ring by defeating Ahmed Johnson in the semi-finals and Mankind in the finals of the annual tournament.
- In August 1997, Helmsley and Chyna aligned themselves with Shawn Michaels to form "Degeneration X."
- Michaels laid down on the mat on December 11, 1997, in Lowell, MA and Helmsley covered HBK to claim the WWF European Heavyweight title.
- Goldust disguised himself as Helmsley, and on January 20, 1998, "Hunterdust" lost to the late Owen Hart, and Hart was declared the new European Champion.
- Helmsley regained the WWF European title from Owen Hart in Phoenix, AZ on March 16, 1998.
- The night after Wrestlemania XIV, Helmsley announced that Michaels had "dropped the ball," and recruited a DX army consisting of the New Age Outlaws and X-Pac.
- DX and the Nation feuded during the summer of 1998, which lead to a ladder match for the IC title against The Rock at Summerslam. Helmsley, now calling himself Triple H, won back the title.
- At Wrestlemania XV, Triple H defeated Kane via disqualification.
- Triple H beat X-Pac at the 1999 Backlash.
- At Fully Loaded '99, Triple H defeated The Rock in a scrap match.
- The night after Summerslam '99, Triple H captured the WWF title from Mankind in Ames, IA.
- Triple H won the six pack challenge at Unforgiven '99 to win the vacant WWF title.
- At No Mercy '99, Triple H defeated Steve Austin.
- Triple H defeated WWF Chairman Vince McMahon at the 1999 Armageddon PPV.
- Triple H pinned The Big Show for the WWF title on January 3, 2000 in Miami, FL.
- At the 2000 No Way Out, Triple H defeated Mankind in a "retirement" vs. WWF title match.
- Triple H won the Fatal Four Way/Elimination match at Wrestlemania 2000 in Anaheim, CA, as Vince McMahon turned against the Rock.
- At Judgment Day 2000, Triple H defeated The Rock in a 60-minute Iron Man match to capture his fourth WWF title. Triple H won 6-5.
- Triple H successfully defended the WWF title against The Rock on the June 5th "Raw."
- At Fully Loaded '00, Triple H beat Chris Jericho in a last man standing match.
- Triple H defeated Kurt Angle at Unforgiven '00 in a no disqualification contest. Mick Foley served as the special guest referee.
- At No Mercy in Albany, NY, Triple H defeated Chris Benoit.
- On the November 6, 2000 episode of "Raw," Triple H attacked Austin, revealing himself as the mastermind behind the hit and run incident at the 1999 Survivor Series in Detroit.
- Responding to Austin's stunner on his "wife" Stephanie McMahon-Helmsley, Triple H delivered a pedigree to Jim Ross on the February 22, 2001 edition of Smackdown!
- At No Way Out '01 in Las Vegas, "The Game" beat Austin in a best of 3 falls match. Austin won the first fall, Triple H won the second fall, which was fought under streetfight rules, and of course, Helmsley took the third fall, a match fought inside a steel cage.
- At the April 3, 2001 Smackdown! taping in Oklahoma City, OK, Triple H defeated Jericho for the Intercontinental title.
- Six days after dropping the IC title to Jeff Hardy on Smackdown, Triple H regained it on the April 16, 2001 episode of "Raw" in Knoxville, TN.
- At Backlash '01 in Chicago, IL, Triple H and Austin defeated Kane and The Undertaker, thanks to outside interference from McMahon, for the WWF World Tag Team title.
- On the May 21, 2001 edition of "Raw," Triple H suffered a quad tear in a tag team match involving "The Game" and Austin vs. Benoit and Jericho.
- Three days later, Triple H underwent surgery in Birmingham, Alabama with Dr. Jim Andrews.
- On August 11th in Birmingham, AL, Triple H made a surprise appearance at the end of the Terry Gordy Tribute show.
- After months away from WWF television, Triple H made a triumphant return to "Raw" on January 7, 2002 in New York, NY.
- Triple H defeated Angle to win the 2002 Royal Rumble battle royal.
- On the February 11, 2002 edition of "Raw," Triple H and Stephanie were scheduled to renew their wedding vows. Instead, Linda McMahon informed Triple H that Stephanie was faking her pregnancy. As a result, Triple H told Stephanie it was over between them, and gave Mr. McMahon a pedigree.
- At Wrestlemania X-8 in Toronto, Triple H pinned Chris Jericho to win the Undisputed World champion.
- At Insurrextion '02 in London, England, Triple H pinned The Undertaker.
- Triple H defeated Jericho in a Hell in the Cell match at the 2002 Judgment Day PPV in Nashville, TN.
- On the July 22, 2002 episode of "Raw," it appeared DX had returned in the form of Triple H and Michaels. Instead, Triple H turned against his buddy, and gave him a pedigree.
- On the September 2, 2002 edition of "Raw," general manager Eric Bischoff awarded the show's newly created World title to Triple H.
- At Unforgiven '02, Triple H successfully defended the Raw World title against Rob Van Dam. In the match, Ric Flair turned heel, and aided Triple H.
- At No Mercy '02 in Little Rock, AR, Triple H defeated Intercontinental champion Kane to return the World Heavyweight title.
- Triple H defeated Shawn Michaels in a best 2 out of 3 falls match to win the World Heavyweight title at Armageddon '02 in Ft. Lauderdale, FL.