S C O T T H A L L
PROFILE
Real name: Scott Oliver Hall
Height: 6'6"
Weight: 272 lbs.
Date of birth: October 20, 1958
Hometown: Miami, FL
Pro debut: 1984
Trained by: ?
Finishing move: Outsider Edge
Wrestled as: "Big" Scott Hall, Diamond Studd, and Razor Ramon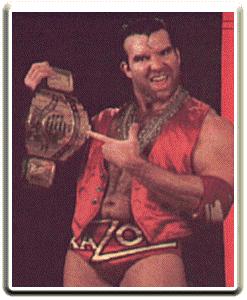 MY THOUGHTS:
"Somethin' happen to my gold, mang, somethin' gonna happen to you!" Razor Ramon breathed life back into Hall's sagging career when he entered the WWF. One of the most charasmatic characters ever in the federation, Hall's Razor was "The Bad Guy" and the fans loved him! Hall will be remembered as a major part of the WCW's success in the mid to late 90's as one of the founders of the nWo.
BIOGRAPHY
In his years as a wrestler, Scott Hall has made his mark in many of the larger wrestling organizations. He started out as a member of American Starship along with Dan Spivey in Kansas City. He wrestled in the AWA in 1986, and held the AWA Tag Team belts with Curt Henning, by defeating Jim Garvin and Steven Regal. They later lost to Buddy Rose and Doug Somers. After being Texas Scott in the CWA for a few months, Hall then wrestled in the WCW for a while, under the name of the Diamond Studd, a member of Diamond Dallas Page's crew. It was soon self-evident that this would not work in the long term, so Hall left for the WWF, to become "Razor" Ramon.
It was in the WWF when Hall finally started to become recognized. In 1993, after Shawn Michaels refused to wrestle and was stripped of his belt, Razor Ramon defeated Rick Martel in the tournament final to become the WWF Intercontinental Champion. He held onto the title for 7 months before losing to Diesel (Kevin Nash). Four months later, Ramon took the title back from Diesel. This title reign lasted for 5 months, then Ramon lost to Jeff Jarrett. After this lost, Hall went to the USWA for a few months, where he won the USWA Unifed Heavyweight Title from Bill Dundee. He held the belt for about a month before being dethroned by Jerry Lawler. A few weeks later, Ramon was back in the WWF with a vengence, winning the WWF IC Title back from Jarrrett for his 3rd title reign. A few days later, Jarrett retook the belt. In October of '95, Razor Ramon managed to get the IC Title back for the fourth and last time, defeating Dean Douglas. After losing the title to Golddust (Dustin Rhodes), Hall was ready for a change. He soon left the WWF following the "kayfabe" incident, where he, Michaels, Nash, and Hunter Hearse Helmsley broke the sacred "keep the wrestling secret" clause by hugging each other in the ring on Nash's and Hall's last match in the WWF.
When Hall and Nash came to WCW, they immediately declared war on all of the wrestlers. Soon, they caused one of the greatest shockers in the history of the organization when Hulk Hogan, one of the biggest icons in the sport, joined with them to form the New World Order, which has terrorized WCW for over 2 years. In October of '96, Hall and Nash, as the Outsiders, won the WCW Tag Team Titles from Harlem Heat, which they held for almost a year before the Steiner Brothers defeated them. In November '97, with help from Nash (dressed as Sting), Hall won the World War III battle royal, which eventually earned him a title shot against Sting. He lost the match, however, and went back to tag-team competition.
In January '98, the Outsiders reclaimed the belts, but lost them again to the Steiners in early February. Hall and Nash came back a few weeks later to win the titles together for the third time, when Scottie Steiner broke off with his brother and joined the nWo.
While Nash formed nWo Wolfpac, Hall was missing in action for many months (it was rumored he was in drug rehab). His return was a shocker, as he turned on Nash and pretty much gave the tag team belts to Sting and the Giant. Hall has shown that he is sticking with nWo Hollywood, when he and the Giant won the Tag Team belts from Nash and Sting. Hall then began appearing at shows looking drunk, and did not seem to be in wrestling condition for his matches. The Tag belts were lost by the Giant and Scott Steiner at Halloween Havoc, while Hall fought against his former partner Nash.
At a November '98 Nitro, Hall nailed Eric Bischoff with a right hand, then fought with Hollywood Hogan. Then, at WWIII '98, Hall was jumped by his former allies in the nWo, but was aided by his former partner Kevin Nash in fighting them off. It appeared that Hall might be joining Nash's Wolfpac. Then, on the first Nitro of '99, Hall and Nash, the Outsiders, along with former Wolfpac member Lex Luger, joined with "Hollywood" Hogan and his nWo, with Nash giving Hogan the World Title. With Hall, Hogan, and Nash, the nWo had again become formidable. Hall's taser also made a huge impact on many wrestlers.
In early '99, Hall seemed to be tutoring a pupil, the Disco Inferno. Both wrestlers lended aid to the other, helping them pull off some big wins. Hall continued to feud with Bill Goldberg and Bam-Bam Bigelow, with the taser being a major factor over the next few months. However, despite his (and Disco's) best efforts, Goldberg came out on top. In February '99, Hall began a short feud with the US Champ, "Rowdy" Roddy Piper, wearing his skirt and 'curtsying' a lot. At Superbrawl IX, Hall defeated Piper, with help from Kevin Nash, earning the United States Title. However, not long afterwards, Hall's foot was run over in the parking lot, injuring him badly enough to put him on the shelf, forfeiting the US Title before he could truly defend it.
Hall stayed on the injury list for a long while, rarely appearing at WCW shows. In November '99, he made a brief return to the scene, joining again with Kevin Nash. The Outsiders began sitting at arena events, watching the action and getting interviewed, due to Nash having lost a 'retirement' match against Hulk Hogan. Hall and Nash were soon challenged by Goldberg, and the WCW front office began putting them in matches again. The Outsiders, reformed but not exactly renewed, took these challenges in stride, then began to enlarge their feud with Goldberg, teaming with Sid Vicious against Goldberg and his friend, Bret Hart. During this time, Hall gained the United States Title for a second time, winning over Hart, Goldberg, and Nash in a Texas Tornado Ladder match.
A few weeks later, Hall was assigned to fight Rick Steiner, the Television Champion. Due to injuries, Steiner didn't make it, and Hall became a dual-champion. He defended the belts at Mayhem, managing to get by Booker T, then tried to give the TV Title to Nash, who didn't want it. The TV Title was thrown in the trash, officially being vacated by Hall. In December, the Outsiders got their crack at Goldberg and Hart, who had won the tag-team titles a week earlier. Thanks to Hart's bad knee, the Outsiders once again became Tag-Team Champions. However, injuries again began to plague Hall, and he was forced to vacate both belts in the next few weeks, leaving him titleless again. Whether the injuries were physical or mental is unknown.
Hall reappeared for a short span at the beginning of the new millenium, joining with Nash, Hart, and Jeff Jarrett as the reformed nWo. Soon, though, Hall broke away from Jarrett, with the two feuding against Sid Vicious, who was the WCW World Champ. The three met at Superbrawl X, where Vicious came out on top, taking down Hall. Hall's role in WCW after that soon ground to a standstill, with Hall being released later on in 2000. There were rumors that he appeared in ECW for a time, and was teased during the Nash/Goldberg feud to be returning to WCW. But when Nash lost to Goldberg at Bash at the Beach 2000 (thanks to Scott Steiner's interference), Goldberg tore up Hall's 'contract', making sure that he didn't return.
In May '01, Hall wrestled in various events at Dusty Rhodes' Turnbuckle Championship Wrestling. He then headed back overseas, and is currently testing his limits in New Japan Pro Wrestling. It's still unknown whether or not Hall will ever make his way back to the World Wrestling Federation, although much talk has been said about when Kevin Nash's WCW contract ends in 2002. Will the Outsiders reunite to take on the WWF? Only the future will tell.